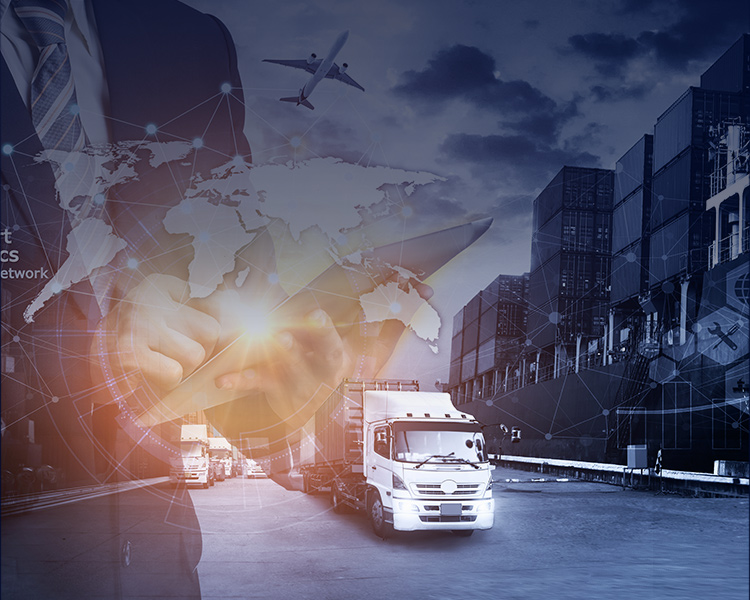 Supply chain solutions
based on management perspectives
that are unique to a general trading company group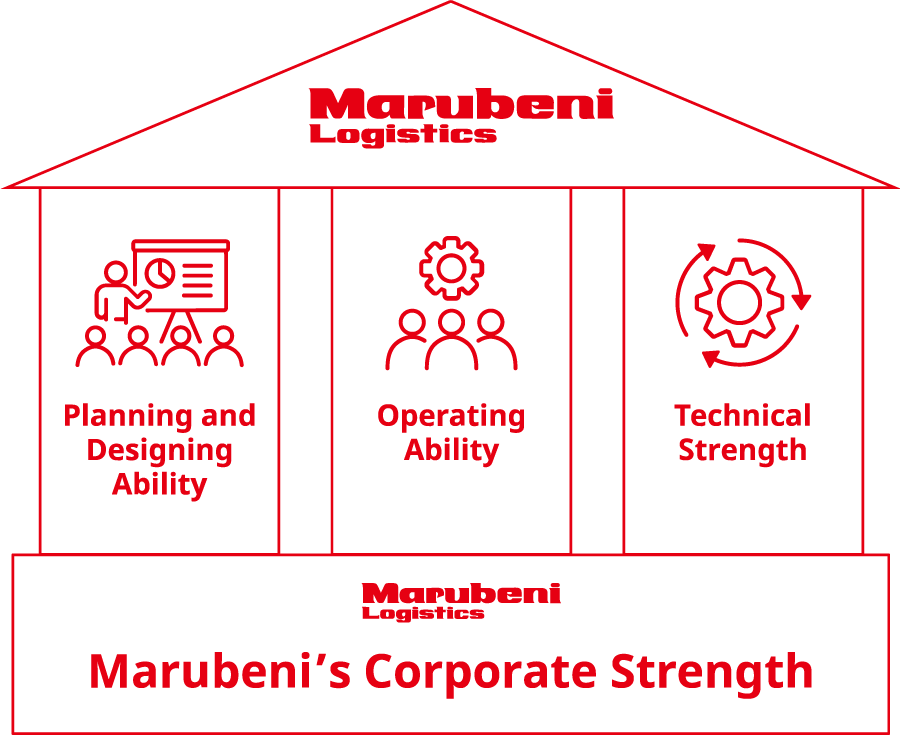 Four Reasons to Choose Marubeni Logistics
REASON01

Planning and Designing Ability in addition to Technical Strength that maximize customers' businesses through strong supply chain optimization

Marubeni Logistics is the supply chain solution company that resolves the customers' problems in their global supply chains. In addition to just transporting goods and cargoes, the strength of the company is the capability of providing strong supply chain designs to maximize the customers' businesses through our Planning and Designing Ability to plan and design logistics strategies from the viewpoint of management.

REASON02

Technical Strength to realize the optimal "solutions"
by using advanced IT technology

We believe our goal is to provide not only storage and transportation, but also "solutions" to customers. Under this belief, we are constantly improving our Technical Strength which includes the systems using advanced IT technologies and digital SCM (supply chain management) systems and provide the optimal "solutions" for the customers in terms of both speed and cost as a supply chain professional.

REASON03

Operating ability that focuses on three layers and two aspects of communication, in addition to always quantify the situation and promote resolution of issues.

The three layers (the customers' management team, the logistics managers, and the operation team) are supported by the two aspects (the Marubeni Logistics' Planning & Management/QA team and operating team).

In the future where unpredictable changes may continue to occur, supply chains are required to have flexibility and resilience. To make it possible, it is required to quantify the situation and share it with customers every day, in addition to identify the issues from it and make efforts to resolve them continuously.
Marubeni Logistics has been performing appropriate operations with its expertise, which we have built for years as the logistics professional, and close analyses. This power is derived from our policy to focus on three layers and two aspects of communication. The three layers (the customers' management team, the logistics managers, and the operation team) are supported by the two aspects (the Marubeni Logistics' Planning & Management/QA team and operating team). This is to support the customers for various problems from management to issues on the floors.

REASON04

Marubeni's Corporate Strength, with operational viewpoints based on knowledge about both logistics and commercial distribution, has strong networks with finance, IT, and other industries

Supply chain is a series of processes to deliver products to end users. That is to say, it is the fundamentals of business, and it is involved in every industry, such as finance, real estate, and IT. For that reason, Marubeni's Corporate Strength, with the comprehensive power including the international logistic network, commercial distribution function, and digital technologies, will surely support customers. Our thoughts are always with the customers as the global supply chain partner to help to create new values. Please contact us for any inquiry.
Digital SCM (Supply Chain Management)

Marubeni Logistics is driving the development of advanced digital SCM using IoT and AI. The digital SCM optimizes the customers' procurement plans and lead times based on digital data, and helps the customers maximize their sales, minimize the cost, and change their habits of being operation dependent on particular individuals.

Seamless e-Commerce logistics for BtoB and BtoC businesses

The demands for e-Commerce are rapidly expanding. On the other hand, some of our customers who had focused on BtoB businesses are facing the issues of complexity of inventory management and transportation costs between warehouses due to lack of linkage with BtoC systems. Thus, Marubeni Logistics focuses its force on seamless e-Commerce logistics for BtoB and BtoC to contribute to the growth of the customers' businesses.

Cooperative logistics that leads to Green Transformation (GX)

Efforts on ESG is going be required for all companies, regardless of the sector or industry. In the environment where it was required to improve loading efficiency and optimize the number of working vehicles, Marubeni Logistics have made efforts on building an integrated platform to act as the foundation of cooperative logistics. Specifically, we are actively offering our platforms to individual industries, which easily commonize the storage and shipment destinations, as new sustainable networks.

Domestic and overseas network

Marubeni Logistics has 46 logistics centers (507,600 ㎡ in total) in Japan and proprietary customs clearance offices in Tokyo, Osaka, and Nagoya. The company also has 13 overseas offices in the United States, China, Vietnam, and Thailand, as well as overseas partners in 37 countries. (Both as of February 1, 2022)
OUR SERVICE
Platform Business

With the recent trend of rising logistics cost, we are facing more and more demands for "optimization."
We are determined to provide each customer with proposals to solve their issues by building streamlined logistics systems based on a dominant strategy and commonization.

E-Commerce Logistics

The current demands for e-Commerce are good opportunities for customers to expand their businesses. However, in order to capitalize on these opportunities, customers are required to create an e-Commerce facility, including computing and operational systems.
We will contribute to the business expansion of customers by assisting them to create their optimized e-Commerce facility based on our acquired expertise from past projects.

Logistics Center Management

Through the rigorous control of productivity and quality we can offer a competitive service that maintains high quality and manages the logistics center in a manner aligned with logistics and work fluctuations.

Joint Logistics

Making use of our 3PL coordinator function we advance the sharing of logistics. We devise optimum logistics to the customer with the advantage of reducing the risks in terms of information control arising when sharing is used among customers.
Logistics Consulting

Based on experience, know-how, network, and information we provide integral logistics solutions from the planning of the logistics centers (new installation/ relocation) through service design (warehouse/ management in warehouse) to the commissioning of operations management.

READ MORE

Overseas Procurement Supply Chain Solution

The current diversification and internationalization of procurement sources are making supply chains more and more complex.
As a subsidiary of trading company, we provide the solutions for optimizing the entire supply chain, including responding to logistics issues by considering the commercial distribution functions and making improvements by utilizing digital technology.

READ MORE

Information System Solution

Our providing warehouse and distribution control services is a matter of course, and more than this we offer system solutions that make the process from logistics to order placement/receipt more efficient in terms of purchase control and trade control. We also have an original control system available.