Ocean Freight・International Multimodal Transportation Service
We offer optimal transportation services that are specifically designed for each customer.
Scope of Services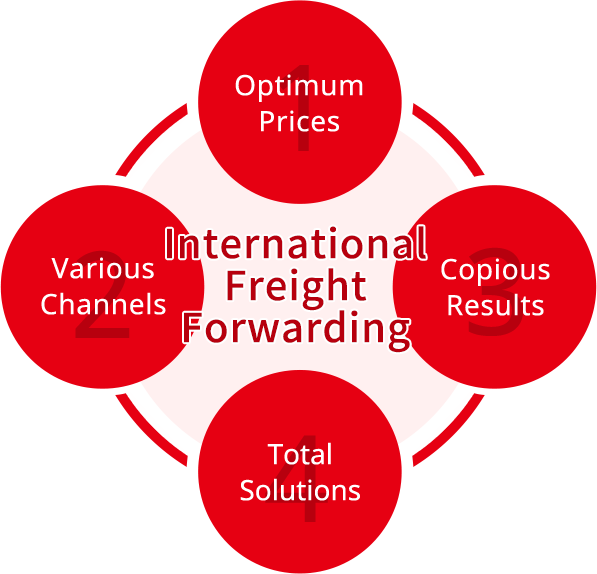 1.Cost Effectiveness in Freight Management
The Marubeni Group (Marubeni DNA) provides high reliability.
We manage a high volume of cargo in China, ASEAN, North America, and Europe. Marubeni Logistics can offer optimum and cost competitive carrier contracts in global networks.
2.Various services!
In Marubeni DNA, we can offer a wide selection of total logistics services with any commodity of goods.
Our global integrated systems can provide optimal services to meet the customers' needs, including maritime transportation through our channels with various major carriers around the world (container ships, conventional vessels, Roll on /Roll off ships, etc.), customs clearance, warehouse operations, and inland transportation.
3.Professional and dedicated staff!
Our professional staff gives each customer the benefits of our personalized services.
International logistics requires complex business procedures depending on the product and country, but we provide exclusive support for optimal logistics in line with customer's needs by utilizing our accumulated know-how and experience in handling a wide variety of commercial products as a commercial logistics company.
4.Total Solutions!
Utilizing our accumulated know-how and experience of both trading and logistics, we can offer not only port-to-port and door-to-door services, but also propose optimal solutions based on a total analysis of our customers' international logistics issues (cost reduction, inventory optimization, operational efficiency, compliance, etc.).
Certified as a AEO customs broker
(May 5, 2018)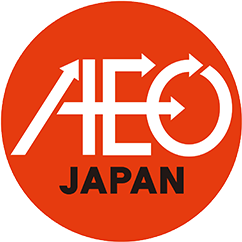 We have been certified by Tokyo Customs as an AEO customs broker, and have experience in handling customs clearance in a wide range of fields, including lifestyle, confectionery/food, pet food, materials/paper/pulp, and machinery/plant.
* AEO(Authorized Economic Operator) program
The AEO (Authorized Economic Operator) program allows companies to benefit from simplified and expedited customs procedures. These companies are certified by the Ministry of Finance as an operator with a well-developed cargo security management and compliance (legal compliance) system.
Basic Flow of our Transportation Services

Records of Successful Transportation Service
Before Our Proposal Submission
For Company A which exports production parts the reliable supply of its parts to its overseas factories was critical and production cost economizing had become an important issue. Since Company A had signed a contract directly with shipping company B Company A had to resort to using a shipping company with which it had not signed a contract when the ship of company B had no vacant hull space, and this had given rise to the problems of "transportation costs are getting too high" and "deliveries to overseas factories are delayed."

After Our Proposal Submission
By having the Company avail itself of our variegated services it became possible for the company to secure hull space at stable cost and also to effect deliveries to overseas factories according to schedule.
Shortening of lead time was also realized by giving the customer a choice of the service best suited for the occasion.
It was also possible to lighten the work load by letting us handle the peripheral work associated with shipment.

FAQ
Review the present logistics system and cost
Examine the transportation method that has been refused by another company
Export to a country we have as yet not done business with but we do not know what the local customs clearance situation is
Shorten our lead time
Examine more efficient ways of transportation since the volume of business with overseas countries (mainly China and ASEAN countries) has increased in recent years
Outsource logistics-related administration work, including the preparation of documents
Effect a modal shift more sparing on the environment
Please feel free to contact us
Other Services
Platform Business

With the recent trend of rising logistics cost, we are facing more and more demands for "optimization."
We are determined to provide each customer with proposals to solve their issues by building streamlined logistics systems based on a dominant strategy and commonization.

E-Commerce Logistics

The current demands for e-Commerce are good opportunities for customers to expand their businesses. However, in order to capitalize on these opportunities, customers are required to create an e-Commerce facility, including computing and operational systems.
We will contribute to the business expansion of customers by assisting them to create their optimized e-Commerce facility based on our acquired expertise from past projects.

Logistics Center Management

Through the rigorous control of productivity and quality we can offer a competitive service that maintains high quality and manages the logistics center in a manner aligned with logistics and work fluctuations.

Joint Logistics

Making use of our 3PL coordinator function we advance the sharing of logistics. We devise optimum logistics to the customer with the advantage of reducing the risks in terms of information control arising when sharing is used among customers.
Logistics Consulting

Based on experience, know-how, network, and information we provide integral logistics solutions from the planning of the logistics centers (new installation/ relocation) through service design (warehouse/ management in warehouse) to the commissioning of operations management.

READ MORE

Overseas Procurement Supply Chain Solution

The current diversification and internationalization of procurement sources are making supply chains more and more complex.
As a subsidiary of trading company, we provide the solutions for optimizing the entire supply chain, including responding to logistics issues by considering the commercial distribution functions and making improvements by utilizing digital technology.

READ MORE

Information System Solution

Our providing warehouse and distribution control services is a matter of course, and more than this we offer system solutions that make the process from logistics to order placement/receipt more efficient in terms of purchase control and trade control. We also have an original control system available.